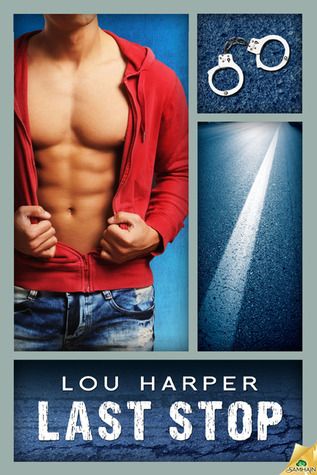 Title:
Last Stop
Author: Lou Harper
Cover Artist: Lou Harper
Publisher:
Samhain
Genre: Contemporary
Length: 211 pages
When love drifts into his life, danger isn't far behind.
Sam Mayne's life is as dull as the dishwater in his small-town Montana diner, and that's just how he wants it. Quiet, uneventful, safe from his shadowy past. The breezy young drifter who answers his help-wanted ad makes him uneasy in ways he dare not examine too closely. Except he can't help but be pulled in by Jay Colby's spunky attitude, endless stories, and undeniable sex appeal.
Fresh off yet another romantic disaster, Jay doesn't understand his attraction to the taciturn line cook, but there's no fighting the chemistry that lands them in bed together. Where Sam's subtly dominant streak takes command, and Jay delights in discovering the pleasures of his submissive side.
Safe in the assumption their relationship is temporary, neither lover holds back when the heat is on. Until Sam's deadly past catches up with them with a vengeance, forcing him to drop the life he's built, pick up his lover, and run. As danger cuts closer to the bone, Sam and Jay are forced to face the truth. About themselves, about the depth of their love—and the newly forged bonds that are about to be tested to the limit.
________________________________________
Product Warnings
Contains enough sparks to ignite a sexual fire, ably fanned by the judicious use of some interesting props, as well as some butt-warming spanking. Sizzzzle.
~~~~~~~~~~~
Jay Colby drifts around, finding work and sex partners here and there as his needs dictate, and those needs aren't always sexual. A sugar daddy, good for two nights or two years, is okay by him, and when he finds himself on the steps of a diner in Mini-town, Montana, he'll sling hash and lay his boss with equal enthusiasm.
Sam has his reasons for not wanting a real relationship, but finds himself drawn in by Jay's enthusiasm behind the counter and in bed. He likes that Jay's willing to take orders, and their sex starts off with a few commands. It progresses to spankings and some light bondage, and everyone is having a good time. Some scenes, like the wax play, are going to be more entertaining for others than for me, but the sex scenes have a lot of variety. A little something for everyone here—there are a lot of sex scenes, three large ones plus tidbits in the first 55 pages alone.
Sam and Jay explore each other, but the end of the good times looms in the ominous conversations between other parties. Each chapter has a brief exchange hinting doom for someone. Sam's pissed a mobster off in a big way, and his days of hiding in nowhereville are numbered. He's not too worried for himself, and he'll just shoo Jay off like the stray he is, to find the rest of his life with someone else. Until he finds he cares, and then he's got to get Jay out of the line of fire, even if he doesn't want to go.
I enjoyed the beginning of this, as two unlikely partners came together, although my degree of investment in their happiness was limited. I think the style kept me at a distance—there were very few forays deep into someone's head. For the most part, it felt like surface interactions. Deep pounding into someone's ass isn't the same as deep involvement in his life.
Most of the interesting things in both Sam and Jay's life happened in the past, and while they tell each other the stories, it's just that, reporting the past. It's necessary background for both of them, explaining why Sam's on the run and that Jay's got a reflex for revenge aimed at vulnerable points, but it's all anecdotes told by one to the other, and not as engaging as it could be. Even Jay's recounting of his slutty adventures feels distant, although it turns Sam on.
The middle of the story bogged down extensively in a protracted road trip—running from the Mob is not always as exciting as it's made out to be. Fortunately, they come to a safe haven and start to settle in a bit, with jobs and new identities, though their pursuers are closing in.
When the mobsters finally catch up to them, I was stunned to discover that I'm much bloodthirstier than an ex-mob enforcer—what I thought he'd do wasn't anywhere close to what he did do, but Sam's supposed to be a moderately good guy now, and he does care deeply for Jay in a way he never expected to. Part of Sam's planning struck me as excessively dependent on luck, the dumbness of his opponents, and an ally who hadn't been entirely reliable. We do have an opportunity to see how Jay and Sam can function as a team, providing the best demonstration that they can make it as a couple. The climactic scene relies on elements of Jay and Sam's sex life in both helpful ways and in creating problems, a nice twist.
I thought the premise here was solid, if familiar, with some novel plot points. The execution didn't quite match the ideas, leaving a feeling of distance between the reader and the characters—the most emotionally engaging moment outside of the sex scenes involved Jay and a koi pond, which is probably not the reaction intended. The sex is hot and plentiful—the author describes it at BDSM-lite, and not so overwhelming as to put off a non-BDSM reader like myself, so it may be a very good choice for a reader looking to expand horizons in that direction.
3.25 Marbles