Yesterday I posted about blurbs, and part of it was a challenge to fix my horrible blah-blah blurb. Of course there's no story attached to it (yet, although Josephine Myles has admitted to liking the idea enough to be tempted. Go for it, Josephine; it's all yours and I'll be first in line for a copy.) To see what they wrote, check the comments in yesterday's post.
So far, three authors have taken up the challenge to turn this mess into something interesting. Being the curious person that I am, I had to check out the blurbs that they write for their own work. Here's the latest from the three brave souls, and if anyone else wants to try, this challenge stays open.
********************
PD Singer gave us a slick, short story style blurb, way higher on the "I'd read that" scale than where it started. Her latest is out from Dreamspinner:
find it here.
(I've read it, loved it, review to follow.)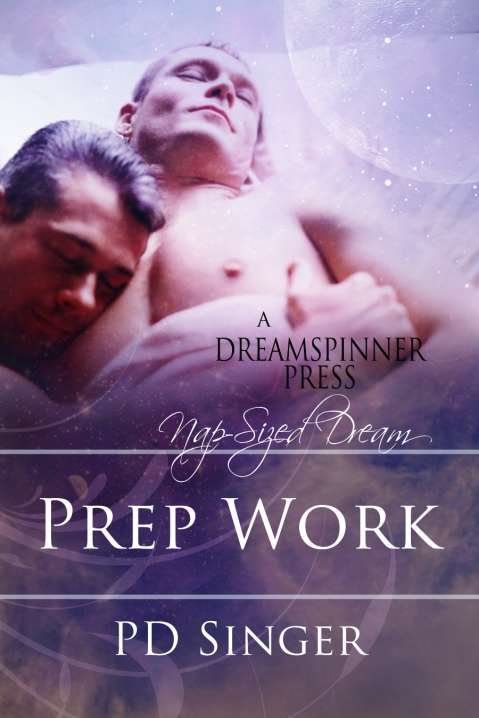 Prep Work
Celebrity chef Jude Marshall's ditched his camera crew for the first time in a month—he's been eating his way through local cuisines on several continents for his television show. No spider-on-a-stick this trip, thank God. Jude's exhausted; all he wants on his London layover is a pint of beer and some comfort food. Stumbling into a gastro-pub, Jude instead finds haute cuisine; his grumbles bring him face to face with chef—and fan—Tommy Bell.
When Jude steps into the kitchen to autograph Tommy's copy of his cookbook, he finds himself lending a hand, and discovers it's possible to tenderize a hardened heart.
***************************
Josephine Myles treated my silly subjects with the puns they deserve in a Samhain style blurb, and this is also a lot more enticing than the original. Josephine's recently released a novel with Samhain, which
I've read, enjoyed, and reviewed
, and you can
find here.
Barging In
When the boat's a rockin', don't come knockin'!
Out-and-proud travel writer Dan Taylor can't steer a boat to save his life, but that doesn't stop him from accepting an assignment to write up a narrowboat holiday. Instead of a change of pace from city life, though, the canal seems dull as ditchwater. Until he crashes into the boat of a half-naked, tattooed, pierced man whose rugged, penniless appearance is at odds with a posh accent.
Still smarting from past betrayal, Robin Hamilton's "closet" is his narrowboat, his refuge from outrageous, provocative men like Dan. Yet he can't seem to stop himself from rescuing the hopelessly out-of-place city boy from one scrape after another. Until he finds himself giving in to reluctant attraction, even considering a brief, harmless fling.
After all, in less than a week, Dan's going back to his London diet of casual hook-ups and friends with benefits.
Determined not to fall in love, both men dive into one week of indulgence…only to find themselves drawn deep into an undertow of escalating intimacy and emotional intensity. Troubled waters neither of them expected…or wanted.
---
Product Warnings
Contains one lovable tart, one posh boy gone feral, rough sex, alfresco sex, vile strawberry-flavoured condoms, intimate body piercings, red thermal long-johns, erotic woodchopping, an errant cat, a few colourful characters you wouldn't touch with a bargepole, and plenty of messing about on the river.

******************************

And Lou Harper has come to play! This rewritten blurb tells me I'm in for a roller-coaster of a ride, and it sounds like fun. This is where I admit I haven't read any of Lou's work, but that has to change.

This one looks like a great place to start:



Hanging Loose
When you fall in love, it can't be all just hanging loose...
After graduating from art school Nate left the Midwest for sunny Southern California, not quite sure what he hoped to find. It was almost certainly not falling in love with another man. His whole world and assumptions about himself begin to slowly turn upside down on one hot summer day. Seeking respite from the heat and his loneliness at Venice Beach he has a chance encounter with a handsome blond surfer.
Jez is friendly, easygoing, and just a little bit mysterious. Openly gay, Jez offers cutie Nate a place to stay, and the two men become fast friends. Nate makes new friends, adjusts to his new life, but his unbidden attraction to Jez keeps growing. In their moments of closeness Nate realizes that he wants Jez more than just a friend, but it might be too late. To make Jez his, Nate has to face not only his own fears and insecurities, but his mysterious mate has secrets of his own.
~~~~~~~~~~~~~~~~~~~~~~~

Thanks for playing, guys, I know this isn't the easy fun part of writing.